The 2018 Winter series has finished after what has been a very hard winter and a lot of bad luck with snow, we ran 3 rounds (Brookthorpe, Nene Valley and Ledbury) .
The winter wasn't smiling on us as the last round should have been at East Shrewsbury but was washed out with the track under water after a very wet Friday night so a last minute change of venue to Ledbury allowed the series to finally come to an end and a very big thanks to Nathan, Ray and Elvio at Ledbury for helping us out .
A big Thanks must also go to Kev and Suzanne Griffin for running the meetings for us and they have volunteered to run most of the summer series for us  – many thanks both.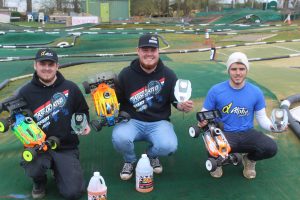 Winners overall in the nitro series were
1st Mike Lewis RC8B 3.1
2nd Jack Embling S Workz
3rd Matt Lewis RC8B3.1
Ebuggy Winners were
1st Chris Lovell
2nd Marcus Cherry
3rd Simon Davis
Junior Nitro Buggy winners were
1st William Day
2nd Henry Bennett
3rd Lewis Jones
Junior E Buggy Winners were
1st Ben Cherry
2nd Zak Edwards