Events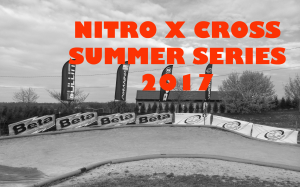 We will be running the Nitro X Cross summer series over 16 rounds with the best 9 to count.
This year will continue to run an Inter Club series with points being awarded not only to the drivers but also to the participating clubs with the club with the most points being awarded a series trophy.
The format will run as follows:
16 rounds with the best 9 results to count.
No Controlled Tyres
4 rounds of 5 minute qualifiers with best 2 to count (RBR)
A Final 25 Minutes
All other nitro finals 20 Minutes and E-Buggy final 15 mins (finals may be shortened if bad weather) .
No Saturday practice.  All meetings this year will be held on Saturday & Sunday.
Points format as follows:
Points awarded for Final finishing position. 1 bonus point for TQ
Points awarded to each club member will count towards their clubs total. Drivers will not be able to swap clubs once they have entered the series. The first entry they make will determine the club they are racing for.
For Example FTD 1 point A Final win 100 points = 101 driver points and 101 club points.  If you do not complete 1 lap of your final you will not be awarded any points. If you have bumped from a lower final but not completed a lap in your higher final you will still be awarded points from your original Final.
Booking in will open 1 day after the previous round and close on the Friday prior to the event. All booking in will take place through the NitroXCross website and a drivers list will be visible to all. The cost is £12 per person per round or £20 for both rounds of the weekend. You can also book in on the day but the cost is £15 per round and you will be entered into heat 1 regardless of ability so please try to book in early so that each club can cater for the correct amount of entries. £2 from each one day entry or £5 from a weekend entry will be held by Nitro X Cross and put towards end of season trophies, the rest of your entry fee goes to the club hosting the event. The more entries we receive the better the end of season trophies!
Event trophies are also provided by Nitro X Cross for the summer series.
End of season trophies supplied by Nitro X Cross.
End of season prizes supplied by Nemo Racing
There will be an entry cap of 90  drivers per event (6 heats of 15 cars per heat), so please book in early to avoid disappointment!
Nitro X Cross will run to Nitro X Cross rules. If a rule is not in place then BRCA rules will be used. A BRCA handbook can be found HERE
Venues and Dates:
Rounds 1 & 2 – MARCH 25TH & 26TH COVENTRY DIRT
Round 3 & 4 – APRIL 29th & 30TH (Bank Holiday) NENE VALLEY ASTRO
Round 5 & 6 – MAY 27TH & 28TH PEMBREY DIRT
Round 7 & 8 – JUNE 10TH & 11TH JC RACEWAY DIRT
Round 9 & 10 – JULY 8TH & 9TH BROOKETHORPE DIRT/ASTRO
Round 11 & 12 – AUGUST 5TH & 6TH SWINDON ASTRO
Rounds 13 & 14 –  AUGUST 26TH & 27TH EAST SHREWSBURY DIRT
Rounds 15 & 16 – SEPTEMBER 16TH & 17TH LEDBURY ASTRO
To Book in CLICK HERE
We strongly discourage clubs who are competing in the Nitro X cross series to hold events on these dates.
Booking In and cancellations:
Booking in will take place at www.nitroxcross.co.uk Booking in for rounds 1 & 2 opens on  Friday 24th February at 6pm and for round 3 & 4  the Monday after the previous event and so on. Booking in will close on the Friday prior to the event at 10.00 pm.
Any cancellations/withdrawals must be made through the book out page on the website.  Cancellations must be received by 10 pm on the Wednesday prior to event.  Booking out after this dealine or failure to do so will result in the driver still being charged for the event and will not be allowed to compete in future events until outstanding fees are paid.
Each day will have a maximum of 90 entries across all classes.  E-buggy and Nitro buggy will be mixed in qualifying, however, E-Buggy will be seperated out for their own final.
Age Classes:
Juniors must be under the age of 16 on the 1st January 2017.
Older Generation must be 40 or over on the 1st January 2017.